58 Health Workers Quarantined in Eastern Region Over Suspected Coronavirus
About 58 health workers of the Begoro Government Hospital in the Eastern Region, have been mandatorily quarantined, after being exposed to a patient with Covid-19.
According to a statement issued by the Regional Directorate of Health Service, Dr Alberta Biritwum-Nyarko, a 65-year-old farmer with no travel history was admitted to the Hospital on Sunday, April 5 for Tuberculosis.
He then developed fever of above 40 degrees Celsius and was tested for the novel coronavirus and the Noguchi Memorial Institute of Medical Research (NMIMR) confirmed that he is positive.
Following that revelation, the Regional Health Directorate has met with the staff of the Government Hospital and quarantined all exposed staff.
"Some staff who live alone have been quarantined at home, whilst arrangements are being made to accommodate all the others in hotels or guest houses nearby.
"All patients on the male ward who shared common amenities with patient are under quarantine and there are no more admissions to the ward," she stated.
Dr Biritwum-Nyarko further revealed that samples of the 58 individuals suspected of the disease have been sent to NMIMR.
She further indicated that contact tracing has begun and more Personal Protective Equipment (PPEs) will be deployed to the region to intensify protection of health workers.
So far, the Eastern Region has recorded 32 cases out of Ghana's 566 coronavirus cases recorded nationwide.
The Ghana Health Service says 31 of them are Indians working with AFCON, the Indian railway company and one is the farmer from Begoro in the Fanteakwa North District of the Eastern Region.
Read the full statement below: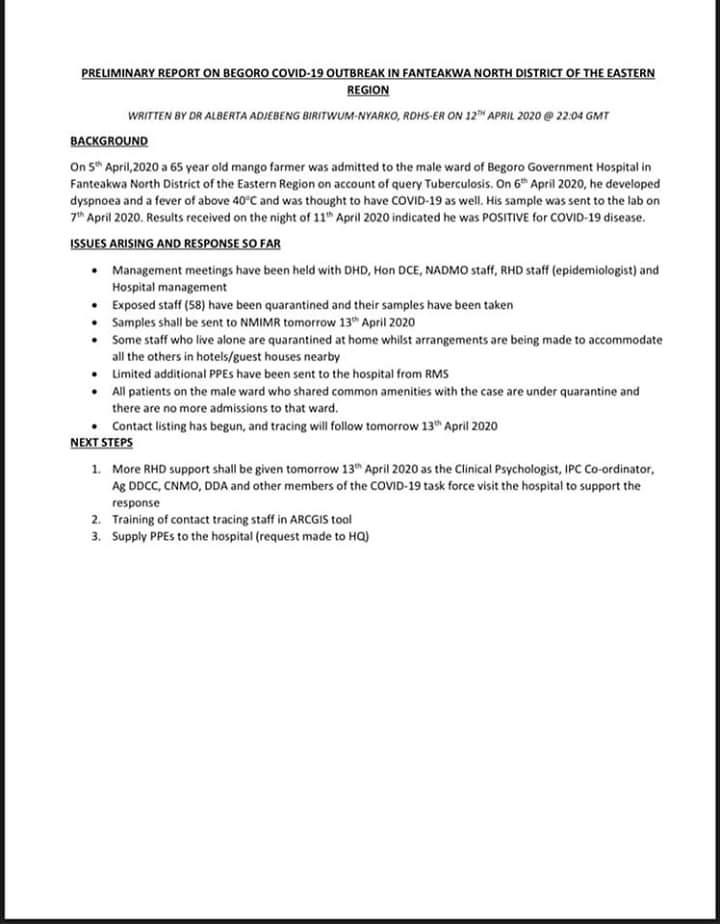 Source:www.myjoyonline.com
Please follow and like us: