Health Service Orders Staff To Cease Media Interviews Relating To Coronavirus
The Eastern Regional Directorate of the Ghana Health Service has directed health personnel to desist from engaging the media on the Covid-19 pandemic other than education.
In a letter signed by the Regional Health Director, Dr Alberta Biritwum-Nyarko and addressed to heads of all health facilities in the region as well as directors of health in the Municipal and District Assemblies, she warned that any unauthorised staff who will speak to the media will have him or herself to blame.
Describing the act as unacceptable, Mrs Biritwum-Nyako said the pandemic is a serious matter and must not be treated lightly.
"The recent spate of the media engagements that have set our teeth on edge are one too many and must stop with immediate effect," she warned.
The Easter Region so far has recorded 32 coronavirus cases out of the total 566 cases recorded in the country.
Read the letter issued to all health facilities in the region below: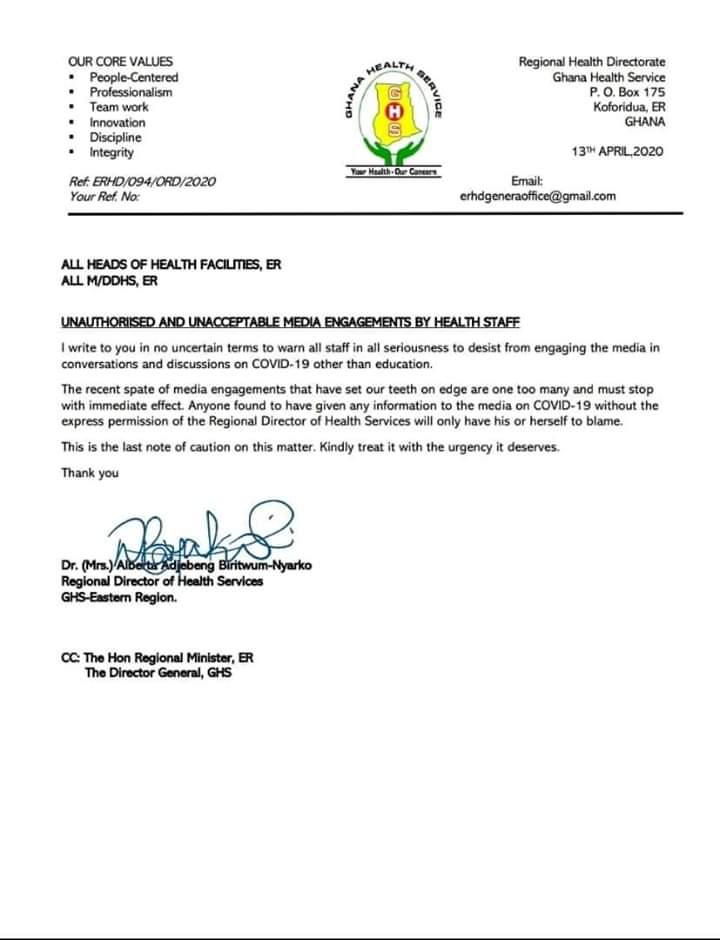 Source:
Please follow and like us: