Important Corrections To Make Before Retirement For All SSNIT Contributors-CHECK DETAILS.
Tier 2 will be used to provide a lump amount to a retired contributor, and SSNIT will be used to pay his or her monthly pension payments.
Following the above this article provides insight into important corrections to make for SSNIT before retirement.
Contributors who served before 2016 should be aware that, in addition to their Tier 2 Lump Payment, they have "Past Credit" (a sizable lump sum to be recovered by SSNIT) when they retire. This is the effect of money that gathered in a suspended account between 2010 and 2016 before being disbursed to various fund managers.
Contributors appointed in 2016 and after are not eligible for any SSNIT Past Credit when they retire.
You cannot receive your benefits after retirement if your Ghana Card has a different date of birth on it, which might be an accident.
SSNIT Contributors are reminded to update their beneficiaries on a regular basis in order to make the appropriate modifications.
Tier 2 began actively without requiring contributors to enter any beneficiaries for SSNIT. This suggests that numerous contributors under the age of 60 have died in the last two years, and no beneficiary has received their Tier 2 Lump Sum as a result of the lapse.
Corrections To Make
1. If you have more than five (5) beneficiaries, you must obtain an extra form.
2. There is no limit on the number of people who can benefit. However, be sure that your benefit allocation totals 100 percent.
3. If all of the beneficiaries are kids, make sure to add one adult (often the children's mother or father) who may make claims in your "catastrophic absence" via a Letter of Consent.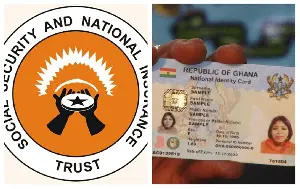 4. If there are no adults among the beneficiaries, your Tier 2 Lump Sum will be retained in your account until any of the minor beneficiaries reaches the age of eighteen (18).
5. Make sure the date(s) of birth of your beneficiaries match those on their birth certificates; otherwise, the same dates used on the form above will be utilized in the "ID" procedure (Ghana Card). They won't be able to make allegations otherwise.
6. The contributor's voluntary Tier 3 contribution should not exceed 16.5 percent of his or her base pay.
Your Tier 2 beneficiaries may or may not be the same as your SSNIT beneficiaries. You can add omissions and insertions, keep them all the same, or completely remodel them.